Can you use an ice rescue suit for swiftwater rescue?
Our team recently received a great question that we wanted to address: "Can you use an ice rescue suit for swiftwater rescue?" Through our many years of experience as first responders and water rescue professionals, we concluded that we do NOT recommend wearing an ice rescue suit for swiftwater rescue. Ice rescue suits deserve a spot in your rescue gear collection, but not for the purpose of swiftwater rescue. We will discuss the many advantages and disadvantages of both ice rescue suits and rescue dry suits below.
First and foremost, we do not recommend ice rescue suits for swiftwater rescue because each suit is designed for completely different water environments and situations.
Ice rescue suits originated from the need to protect seamen working on ocean freighters. These suits were designed "one size fits all" so they could be put on as quickly as possible in the event the ocean freighter was sinking. Ice rescue suits can accommodate heights from 4'10" to 6'6" (think a tall 4th grader all the way up to an NBA basketball star) with a weight limit of 375 pounds. They are bulky and hold air to keep people alive in frigid, static water conditions. There are some companies (Stearns I595) that offer sized (small, oversized, universal) ice rescue suits, but for most purposes, the universal size is the most cost effective. We are focusing on universally sized ice rescue suits for this reason.
SOLAS (Safety of Life at Sea) requires cold water immersion suits to meet numerous minimum requirements for safety and performance including:
No more than two-minute donning time;
Impact protection up to 4.5 meters;
Hypothermia protection up to six hours; and
Flame resistance up to two seconds.
Ice rescue suits are constructed two different ways: neoprene with no inner liner or with a welded nylon outer shell with a detachable inner buoyancy liner constructed of closed-cell foam. The suits have an integrated safety harness, gloves, boots, and watertight sealed hood. For the suit to work properly the zipper must be completely zipped and secure.
There are a great many benefits to having an ice rescue suit, however, the risks outweigh the benefits for use in swiftwater rescue. Most manufacturers have a statement that says, "The ice rescue suit is intended for still/static cold-water rescues only by trained professionals with the required and approved operating standards and requirements".
To sum up, ice rescue suits have some exceptional features for keeping one safe in static/still cold water. However, in a swiftwater rescue situation, one must be able to move easily – which is not a feature that universally sized ice rescue suits offer. Think about trying to swim in an inflated trash bag!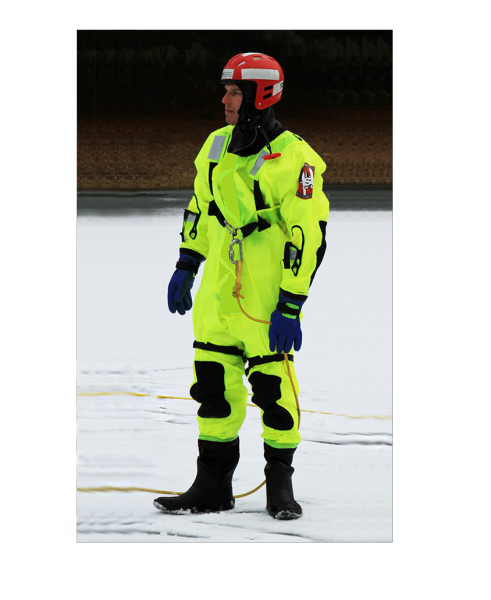 Rescue dry suits originated from white-water activities (rafting, kayaking, etc.) and come in various colors, sizes (S, M, MB, L, LT, XL, XXL) and designs. The suits can be made specifically for men or women, which allows for a proper, airtight fit. The original suits were constructed of nylon, with latex or neoprene gaskets at the ankles, wrists, and neck. Most suits are now made of gortex, or a similar breathable material, with built in relief zippers. Rescue dry suits have front entry and water-tight zippers, with the option of integrated latex or gortex socks, pockets, or some type of watertight enclosure for equipment needs. These suits have no insulation built in; you must wear layers under the suit for thermal protection. Since one can layer under the dry suit for warmth, dry suits can be used for ice rescues.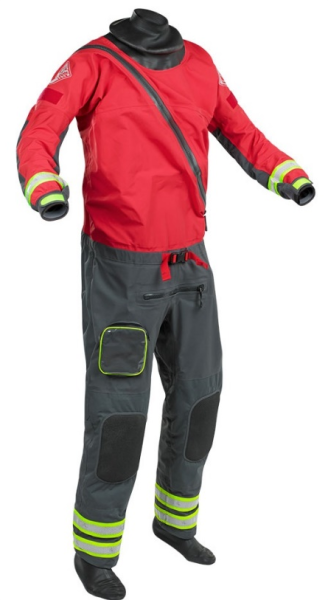 Dry suits are designed for individual/personal use, and they are not intended for use by multiple wearers. The latex gaskets are individually sized for the owner's specific measurements around the neck, wrists, and ankles. This allows for the appropriate dexterity and flexibility needed to perform a swiftwater rescue (think swimming, tying knots, etc.). The form-fitting nature of dry suits also makes it less likely one will get caught on debris during a swiftwater rescue. Those wearing a dry suit must wear a personal flotation device (PFD), as flotation is not built into these suits due to their form-fitting nature. We recommend a PFD with a built-in load release device.
We hope this article has been helpful in showing the many advantages and disadvantages to both dry suits and ice rescue suits. Of course, each department and individual's needs will be different, and deciding what type of suit to purchase depends on the nature of the activity involved. For example, if your department only receives one ice rescue call a year, and 15 swiftwater rescue calls, it might make more sense to purchase dry suits because they can be used for both types of rescue. Feel free to reach out to us with any questions!
For any of you visual learners, we created a table outlining the advantages and disadvantages mentioned in this article (below).